(bigleaguepolitics) – The Food and Drug Administration (FDA) has just released the first batch of documents related to Pfizer's COVID-19 inoculation testing program after a federal judge ordered that they must comply with a massive Freedom Of Information Act (FOIA) request.
The request was filed by the Public Health and Medical Professionals for Transparency group, which reportedly consists of over 30 professionals, most of whom are professors and scientists. The academic group demanded access to any and all data that factored into the agency's decision to officially authorize Pfizer's innoculation for emergency use.
"The entire purpose of the FOIA is to assure government transparency," the plaintiffs argue. "It is difficult to imagine a greater need for transparency than immediate disclosure of the documents relied upon by the FDA to license a product that is now being mandated to over 100 million Americans under penalty of losing their careers, their income, their military service status, and far worse." The FDA was ordered to release the information after attempting to keep it hidden through various court objections.
It was previously stated by the FDA that they would need a whopping 55 years to process the request and transparently show their full justification for allowing millions of Americans to be faced with potentially losing their livelihoods as a consequence of not following various Covid-19 inoculation mandates. This timeframe of how long the FDA hopes to keep the information hidden from the public was recently just extended again to a total of 75 years. https://lockerdome.com/lad/12902604669709926?pubid=ld-1790-7993&pubo=https%3A%2F%2Fbigleaguepolitics.com&rid=bigleaguepolitics.com&width=788
An official Pfizer document titled Cumulative Analysis of Post-Authorization Adverse Event Records Reports that was obtained via the FOIA request has a section containing data on the various adverse reactions observed following inoculation. According to the document, there were tens of thousands of adverse effects of the jab recorded over a 90-day period from December 1st. 2020 – February 28th, 2021.
Data found in the document included 1,403 cases of cardiovascular issues or about 3.3% of the data set.
Perhaps an even bigger bombshell of the document is the amount of death recorded during that brief period of time – the FDA reported 1,233 fatalities in just 90 days.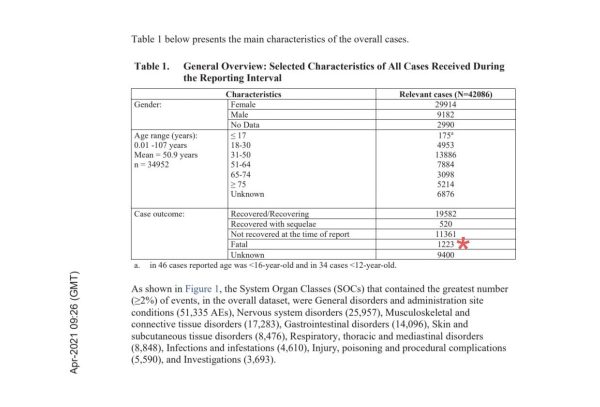 More documents are slated to be released in the coming weeks. Public Health and Medical Professionals for Transparency filed another motion on November 15th that would force the FDA to expedite the release of other never-before-seen requested documents.
Support Big League Politics by making a donation today. You can also donate via PayPal, Venmo or donate crypto. Your support helps us take on the powerful and report the truth that the mainstream media wants to silence.
bigleaguepolitics.com/pfizer-documents-reveal-over-1200-deaths-following-covid-jab-during-90-day-trial-period/